On Wednesday, 30 August, breakfast was served on our plane about 5 a.m. London time, which is 6 hours ahead of Arkansas time.
We decided it would be wise to stick a scopolamine patch behind Jeannie's ear, since it's a proven prevention of motion sickness for her. The plane landed at London's Gatwick about 6:30 a.m. with breakfast pleasingly still in Jeannie's stomach.
We were pleasantly surprised at how chilly the morning air was this English morning. After visiting several airport shops, looking for nothing in particular, we boarded our next flight about 1 1/2 hours after our arrival. The flight to Athens was only about half full, leaving London about 8:30 a.m. Shortly after take-off, we were served another breakfast. The flight got rather "bumpy" over the snow-topped Alps, which we could see below us..
We landed in Athens at 2 p.m. We don't think the official even glanced at us before, during, or after he examined our passports. The greatest mystery at one's final destination is whether one's luggage will appear on the baggage claim conveyor belt. Ours did.
After clearing customs it was really neat to see a guy holding a sign with our names on it. Not having to find a cab or bus to our hotel was super. Most folks from Arkansas would think the traffic in Athens is really wild, but having lived and driven in Naples, Italy, we found it invigorating.
Okay, we're finally where we start reporting on what you really started reading this for.
Athens' time is 8 hours later than Arkansas. We found it hot in Athens, but not unreasonably so.
We arrived at the NJV Athens Plaza Hotel in Athens around 3 p.m. From the balcony of our room we could see the Parthenon on top of the Acropolis. Wow!
Just across the street from the hotel we found an ATM machine, where we withdrew the maximum number of drachma allowed. (We were not sure just how much that was in U.S. dollars, but probably around $250.)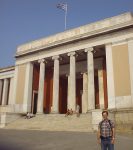 We decided we had time to see the National Archeological Museum if we could get there without walking. Inspired by Greg and Angelique's public transportation experience in Europe last year, we purchased bus tickets and got on a bus that was going in the right direction. We surprisingly got off at the right stop. Before we found the museum we shared a cold Coke, which we couldn't finish before we got to the entrance.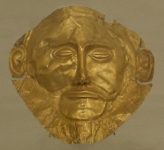 The National Museum has treasures from antiquity, mostly from Greece, but also a few examples from Egypt and Italy. In Greece it is not permitted to use a camera's flash in museums, but we got some decent pictures with our digital camera. The upper floor of the museum was closed for whatever reason. After viewing lots of gold, silver, and bronze jewelry and other items, as well as statues and other marble objects for about 1 1/2 hours, we were ready to go.
While trying to figure out which bus to get on, we found an interesting "hole-in-the-wall" place to eat. Though it was quite early in Greece for supper, we enjoyed our first Greek meal of the trip. After eating we climbed on the next bus going in the right direction. We hopped off about 2 blocks from our hotel.
While Jeannie took a brief nap, Michael found an Internet cafe nearby to check our e-mail. Fifteen minutes online only cost 500 drachma (about $1.34 U.S.).
We were picked up at our hotel around 8 o'clock by our tour company, which transported us by bus to the Sound and Light show. Though the open-air theater will hold 2,000 people, there were probably only 200 attending the "show" which began at 9 p.m. This 45-minute presentation, telling the history of the Acropolis and using various illuminations of the Parthenon and surrounding structures, was not nearly as spectacular as we had expected. The technology was archaic, in our opinions.

Next our group was escorted to the nearby Dora Stratou Theatre to see a Greek dancing and music show which started at 10:15. The various traditional Greek costumes worn by the dancers and musicians were marvelous to behold. When the entertainment ended at 11:35 p.m., we were returned by bus to our hotel.

more photos