POISON IVY and POISON OAK
Are you having a severe reaction?
Is there swelling around the eyes?
Is the rash getting worse?
Is the itching keeping you awake at night?
Is the rash showing no improvement over the past 5 days?
Is it starting to look infected?
If yes to any of the above, the patient should be examined by a physician promptly.
If no, then follow the instructions below.
ACTIVITIES:  Try to avoid scratching to prevent infection. Scratching will not spread the rash; the rash is not contagious. Cut the fingernails very short. Apply cold compresses to areas of itching.
MEDICATIONS:  Over-the-counter Benadryl, topical steroid creams, and other medicines specific for poison ivy may be used. Ask your pharmacist to recommend something.
DIET:  You may eat anything you desire.

CONTACT YOUR DOCTOR FOR ANY OF THE FOLLOWING:
1. The rash is worsening or there is no improvement in 3 days.
2. An infection develops.
---
POISON  IVY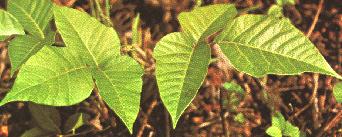 ---


Return to the Home Page
This page was last updated on 7 November 2002.