The Genealogy of
Michael Steven COLE &
Jeannie (JOHNS) COLE
Genealogy Web Site
| | | |
| --- | --- | --- |
| I like to see a man who is proud of the family from which he came. | | I like to see a man who lives in such a way to make his family proud of him. |

Michael first became interested in the family tree in grade school after receiving, as a Christmas gift in the mid-1960's, a Bible which included a branching, five-generation pedigree chart. With his paternal grandmother's encouragement, he began to record details of the family history in July 1974.


From 1985 to 1997 we accumulated 52,464 relatives in our computer database using Quinsept's genealogy software Family Roots™. Then for several years we used The Master Genealogist™ software, which ceased to be supported after 2014. We are currently using Legacy™ and have over 105,349 individuals in our database. Following DNA analyses of Michael's parents and Jeannie in 2017, we are also maintaining a family tree at Ancestry.com limited to our ancestors with their children and grandchildren, totalling 8,804 people.


Michael is a life member of the Arkansas Genealogical Society and the Boone County (Arkansas) Historical Society. He was admitted into the National Society of the Sons of the American Revolution (SAR) as #121312 on 20 December 1982 by descent from patriot Friederich SCHLEIFF.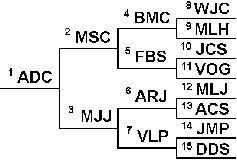 We're apparently all related if we go back far enough. It took 22½ years to discover how Michael & Jeannie are distant cousins. (Our DNA testing found that we do not share any chromosomes from our most recent common ancestor, born about 300 years ago.)


If you are related to us, it's likely that we have lots of genealogical information that we can share with you. From the links below, you can discover much of the genealogy that we have uncovered. Email us if you know you're related, but don't find as much information online as you'd like. It is our hope that this Web site will enhance pride in your family's heritage and strengthen your faith in generations that will come after us.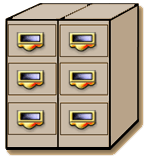 Don't miss our
Our clans
BELEW BORDEN BRAY BROCK CALVERT CARROLL COLE
see TUMA
COWAN
COWAN Connections book
Eli's children photo
off site
        COWAN Clan United
DOMER EAVES FOWLE
GASS GROVER HANKINS HARLAN HAWKINS HENSLEY HOLLINGSWORTH HUNT JANNEY JOHNS MARGRAVE MECHLING
PACE PIPKIN QUARLES SLIFE SMITHEE SPRINGER STUCKEY SULLINS SVOBODA TUMA WITT

Our queries
We are particularly interested in finding any genealogical information about the following ancestors (#'s are ahnentafel):
BELEW or BELUE (#418), Zachariah (1758, SC - 1845, Lawrence Co., TN) married c.1781 Mary BULLINGTON (c.1760, VA - 1839, Lawrence Co., TN).


BROWN (#58), Andrew H. (c.1828, TN - 1860's) married Mary A. (b. c.1834, TN). She remarried 1868, Randolph Co., AR, to William R. WALKER (b. c.1816, TN).


CARPENTER (#246), Jonathan (by 1755, VA - 1810/33, Rutherford Co., NC) married by 1785 Mary HINES(?) (by 1755 - 1830/43, Rutherford Co., NC).


CARROLL (#432), William (c.1731 - c.1781, Granville Co., NC) married Elizabeth JEWEL. Their son William (c.1752, Fairfax Co., VA - 1835, Lincoln Co., NC) married 1777 Keziah CURRIN (c.1762 - 1845, Sparta, TN), dau. of James CURRIN & Elizabeth.


COWAN (#156), Samuel (1770's-1830's) married c.1800 Sarah KEITH (c.1778, Bedford Co., VA - c.1849, Titus Co., TX), dau. of Judge Nichodemus KEITH & Peggy BORDEN.


DUCK (#3361), Elizabeth (c.1649, co. Armagh, Ireland - by 1714, Chester Co., PA) married 1678 George HARLAN or HARLAND (c.1650, co. Durham, England - 1714, Chester Co., PA).


EARLES (#110), William (c.1770, VA - c.1866, White Co., TN) married 1790's Mary (1774/80-1840's). They were in 1800/10/30/40 Lincoln Co., NC.


FITZPATRICK (#211), Nancy (b. Union Co., SC; d. 1854, Monroe Co., KY) married Samuel HARLAN (1778, SC - 1847, Gamaliel, KY).  She was the dau. of Alexander FITZPATRICK.


GASS (#354), Samuel (c.1757, Lancaster Co., PA - 1827, Franklin Co., TN) married c.1781 Nancy ROSE.


HANKINS (#124), Wright (1790's, SC or VA - 1840's, GA or AL) married Nancy Arminta TALLANT (c.1800, Anson Co., NC - 1850's, Craighead Co., AR), dau. of Richard TALLANT & Sarah LINDSEY.  The first 9 HANKINS children were born in Roane and McMinn Cos., TN.


HAWKINS (#76), Felix G. (c.1820, TN - 1891, AR) married c.1846 Parellee J. HARP (c.1825, TN - c.1851?), dau. of William Watson HARP & Rhoda. They were in 1850 White Co., TN.


HENSLEY (#46), John Alexander (b. c.1840, TN - 1913 , Boone Co., AR) married c.1863 Mary Ann JOHNSON (1839, Cannon(?) Co., TN - 1883, Boone Co., AR).


HUNT (#72), Eli Milton (1810's, GA - by 1845, AR) married c.1836 Martha A. HOAGE (c.1820, GA - c.1860, AR).  They were in 1840 Heard Co., GA; she in 1850 Independence Co., AR.


JOHNS (#384), Robert (prob. 1730's - by 1778, Amherst Co., VA) married c.1760 Mary GRESHAM. Their children were Thomas, Robert, William, Jesse, Francis, John Alexander, Bartlett, Nancy, Salley JOHNS, Judith BOOTH, Mary RICHARDSON, Elizabeth BOOTH.


LONG (#42), Crittendon Christopher (c.1852, PA - c.1917, Grenola, KS) married 1876 Emily J. FISHER (1844, OH - 1911, Moline, KS). They were in 1880 Livingston Co., IL. Their children were Cora, Albert, Lena Liza, Bessie.


MARGRAVE or MARGRAVES (#50), John (b. c.1821, KY) married 1846 Abigail YOUNG (b. c.1824, SC).  They were in 1850 Hamilton Co., IL.


MARTIN (#148), Sion Taylor (c.1805, TN - c.1865, Lawrence Co., AR) married c.1824 Elizabeth SMYTHE (1804/10, Caswell Co., NC -c.1845, Searcy or Lawrence Co., AR), dau. of John PAYNE & Betsey SMYTHE.


PACE (#56), Andrew J. (c.1823, TN - 1870's, AR) married c.1843 Cathrine (c.1830, TN - 1860's, AR).  He was in 1850 Perry Co., TN, and 1870 Randolph Co., AR.


QUARLES or QUALLS (#254), Eleazer (Eli A.) (c.1780, SC - 1855, Poinsett Co., AR) married Celia and Jane.  He was in 1810 Pendleton Co., SC, and 1830 Troup Co., GA.


SIMPSON (#97), Susannah A. (c.1800, VA - 1873, Hamilton Co., IL) married Lewis H. JOHNS (c.1796, VA - 1859, Hamilton Co., IL).  She was the dau. of John SIMPSON of Amherst Co., VA.


SPRINGER (#416), Ezekiel (b. 1754, Union Co., SC) married Rebecca COLLINS. Their children were John, Rachel (Mrs. Benjamin RUSH), Desire (Mrs. Valentine HARLAN).


STUCKEY (#160), Martin (c.1778-c.1848, Cumberland Co., PA) married c.1800 Rosana KIEFER (b. c.1784, PA), dau. of Adam KIEFER & Elizabeth FAHCLERN.


SULLINS (#480), Richard (d. c.1771, Halifax Co., VA). His children were John SULLENS (d. c.1808, St. Louis Co., MO), Nathan (d. c.1805, TN), and Josiah (d. 1773, Halifax Co., VA).  Josiah's son Zachariah SULLINS d. 1822, Rutherford Co., NC.


TUMA (or THUMA) (#16), John (b. 1848, Bohemia) married 18 May 1874 to Katie SVOBODA (1852, Moravia - 1925, Nebraska). They had the following children: Josephine, William, Emma, Joseph, Frank, Gustie, and Katie.


WINTER (#5044), Obadiah (c.1639, Scituate, MA - 1675, Woodbridge, NJ) married Margaret CROMWELL, dau. of John CROMWELL & Joan BUTLER.

---
If you have any information that you think might add to our records, we would love to hear from you. If you would like to receive genealogical data from us which might help in your research, we will be happy to share.


 You may contact us at   MColeMD@theColeFamily.com
---

 Visit  www.theColeFamily.com

 Link to  Michael's Home Page

 Link to  Jeannie's Home Page